September Newsletter 2019

Sign Up to receive Dohne Newsletters – Click Here
Sign Up to become a Dohne Member – Click Here
Full Newsletter – PDF Copy
Hamilton Sheepvention Report
This year's Dohne lamb auction for charity raised $2000 for the Cooperative Trials Group for Neuro-Oncology (COGNO).
The sale of four Dohne lambs realised $500 a head for the charity.
Australian Dohne Breeders Association president John Nadin, said the lambs were donated by Max and Ian Pilgrim, Minimay, and were bought by Midfield Meats.
The sale was conducted by Landmark auctioneer Andrew Sloan and the buyers were represented by Steve Farley and Keely Price, Midfield Meats.
Mr Nadin said the auction was held in conjunction with the Australian Sheep & Wool Show in Bendigo, but had been moved to Sheepvention for this year.
He said it was good to have commercial wether lambs on display during Sheepvention as well as benefiting charity.
Pilgrim brothers are commercial breeders and the lambs were pure Dohne.
"It's been a good promotion for the breed as well. That's a record price for lamb," he said.
The lambs weighed 53.4 kilograms live, about 27-30kg carcase weight.
The auction in Hamilton followed on from a Dohne and Dohne-cross lamb carcase appraisal day held at Midfield Group, Warrnambool, in March this year.
The day saw more than 20 sheep producers from across Victoria and New South Wales attend.
Original article written by Alastiar Dowie Stock and Land.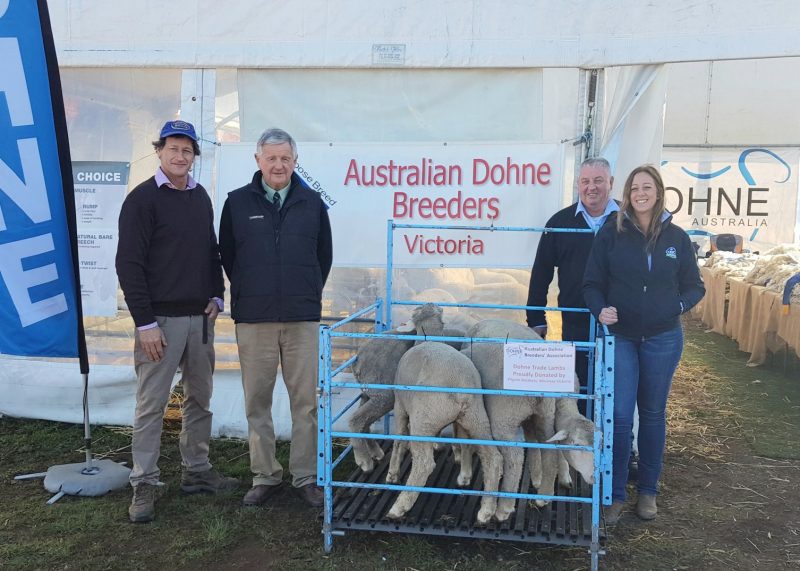 At the auction of donated Dohne lambs were Australian Dohne Breeders Association president, John Nadin, Warren NSW, Landmark auctioneer Andrew Sloan, and buyers Steve Farley and Keely Price, Midfield.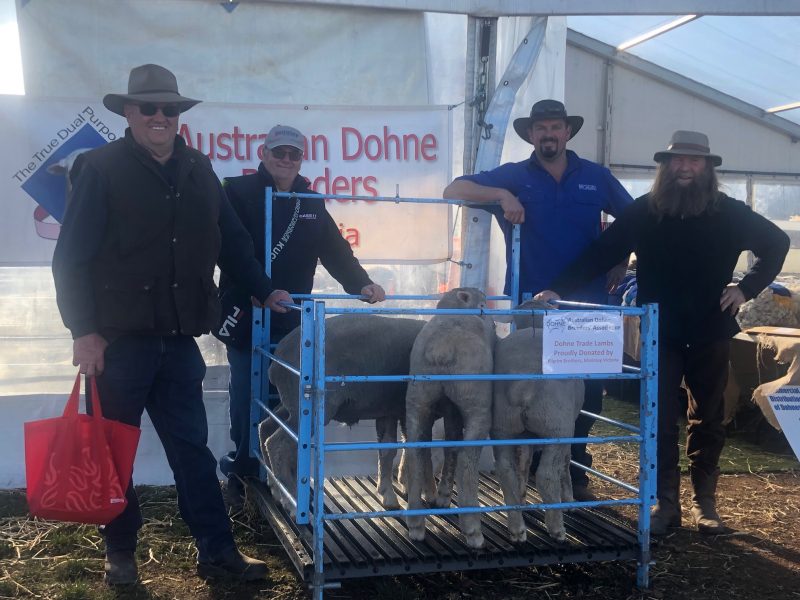 The Pilgrim family Max and Ian Pilgrim, Minimay VIC with  Luke Ellis,West Wail Dohne Stud, Pimpinio VIC and Murray Rogerson, Stirling Dohne Stud, Glenthompson VIC.
Ram Sale Results
Sale reports and photos on behalf of –  Stock Journal
O'Brien Dohne Ram Sale, Wudinna SA
44 rams sold to $3200 (Twice) and averaged $1582.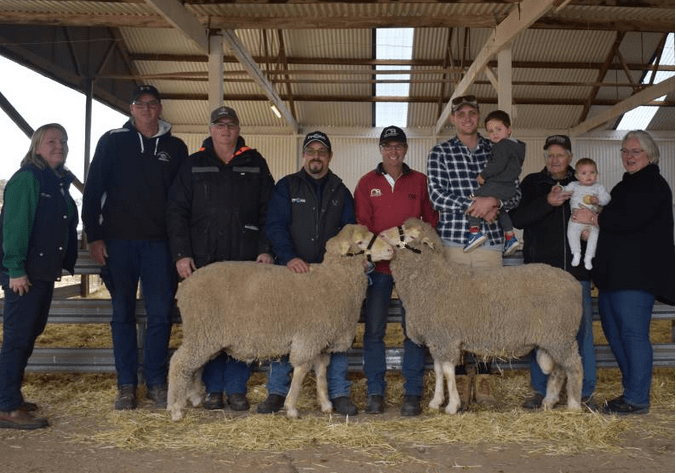 Natalie Clark, Lyndon and Darren Morgan, Scrub O'Brien, Darren O'Brien, Ty McKenna holding son Cooper, Henry McKenna holding great-granddaughter Nahla and Jodie Reseigh-O'Brien. with the top price Dohne rams.
Hill View Dohne Ram Sale, Streaky Bay SA
60 rams sold to $3500 and averaged $1490.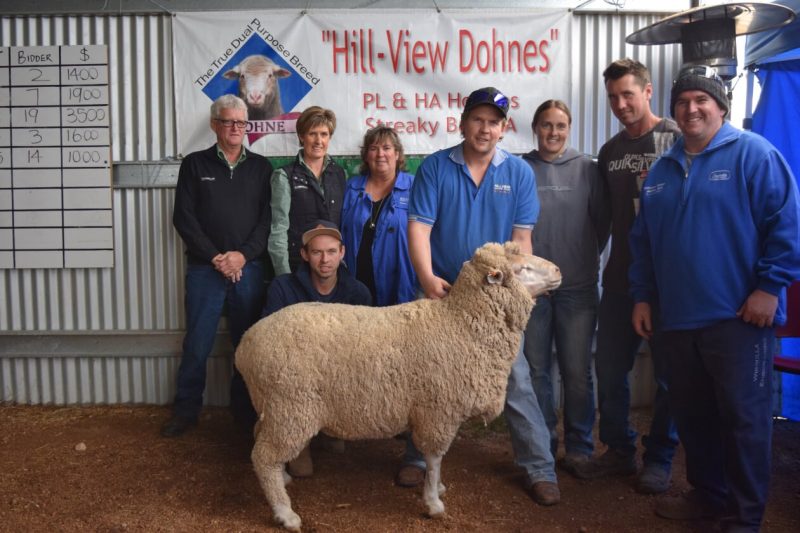 Landmark Agents: Peter McEvoy and Rachelle Montgomerie, Heather Holmes (Stud Principal), Milton Holmes, Purchases: Jane Holmes and Dion Pittaway from Yawattip, Jethro Holmes, Robert Holmes (kneeling) with the top price Dohne ram.
Ultimate Dohne Ram Sale, Mt Pleasant SA
41 rams sold to $4500 and averaged $1465.
JAG Stud topped the sale with JAG180832.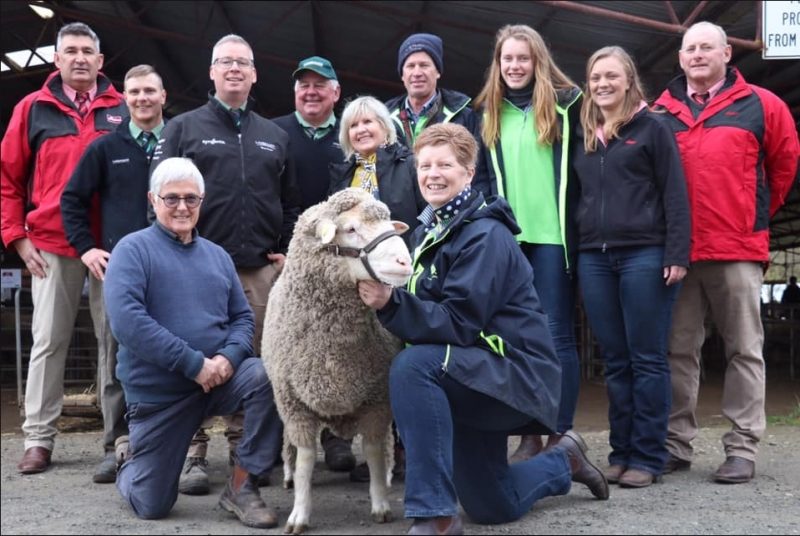 Elders Laryn Gogel, Landmark Agents: Ashley Fawcett, Gordon Wood and David Schultz with vendors JAG Dohne Stud (Greg Petersen and Jude Eustice), Koonik Dohne Stud (Darren, Lily and Fiona Cameron holding the top priced JAG ram) with Elders Agents: Kahlia Jenke and Richard Henschke.
Babirra Dohne Ram Sale, Stansbury SA
44 rams sold to $3800 and averaged $1586.
Full Sale Report – Click Here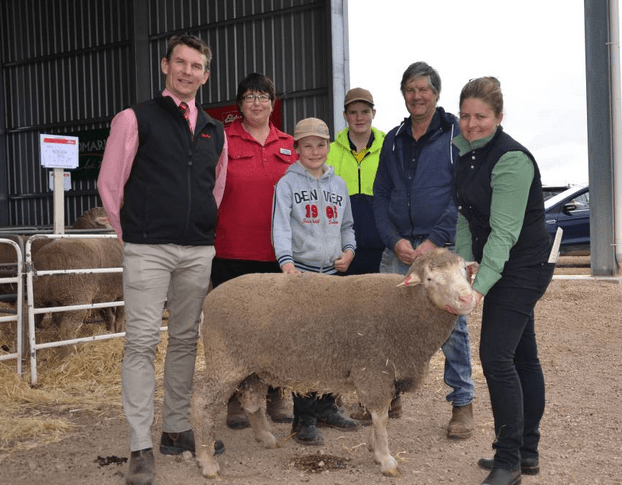 Elders Minlaton's Adam Pitt, Lynda Farrow, Babirra, Stansbury, Tyson, Adam and Colin Black, Caltowie, and Karmel Parsons, Landmark Minlaton, with the top price Dohne ram.
Eagle Ridge Dohne Ram Sale, Cowell SA
19 rams sold to $4000 (Twice) and averaged $1986.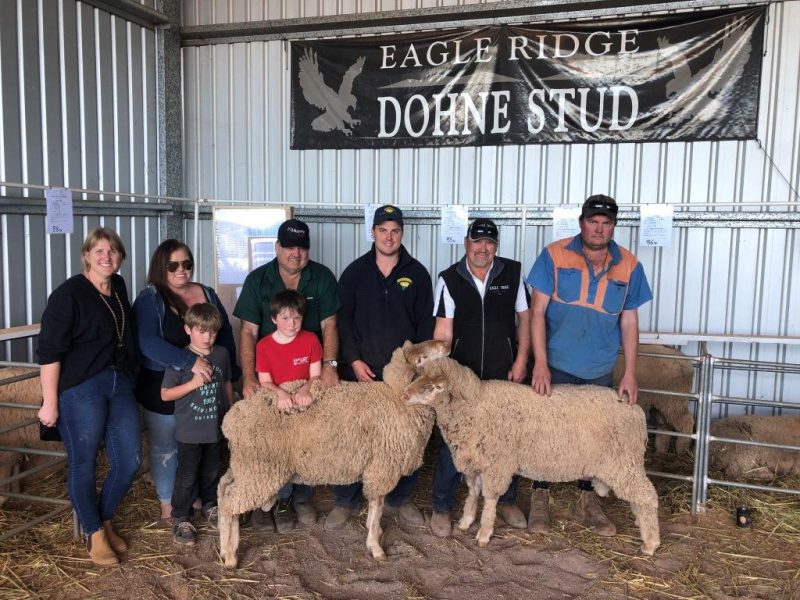 Jacqui Webb (Stud Principal), Amanda, Karen, Garry and Cooper Hodge, EP Livestock – Scott Masters, Paul Webb (Stud Principal) and Wayne Hodge with the top price Dohne rams.
Clover Downs Dohne Ram Sale, Jamestown SA
26 rams sold to $4700 and averaged $1323.
Full Sale report – Click Here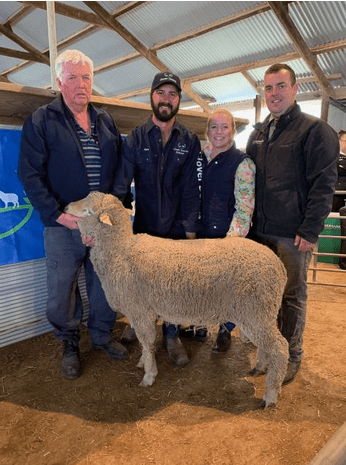 Top price Dohne ram buyer Peter Meaney with Clover Downs stud principals Alex and Georgia Mattschoss, and Peter Marschall, Landmark Gawler.
Ulooloo Dohne Ram Sale, Hallett SA
57 rams sold to $5600 and averaged $1516.
Full Sale report – Click Here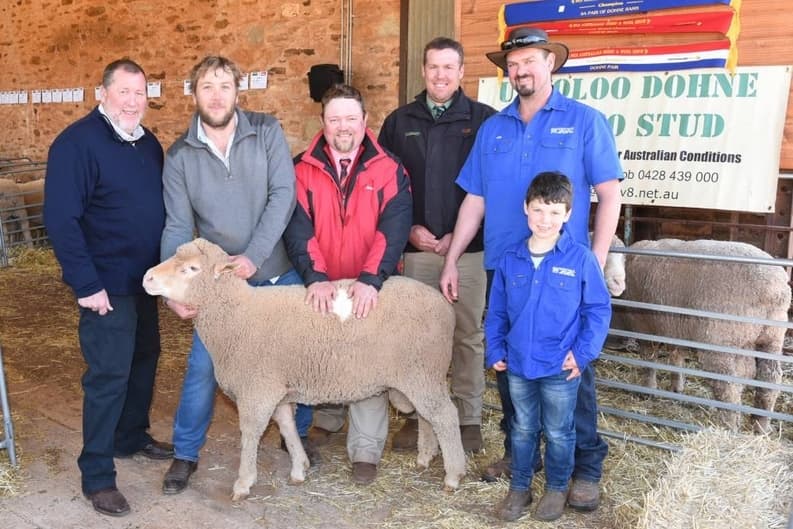 Greg and Rob Hall, Ulooloo Dohnes, Elders Burra's Michael Foster, Landmark Jamestown's Andrew Parsons and Luke and Milton Ellis, Pimpinio VIC.