September Newsletter 2020

Sign Up to receive Dohne Newsletters – Click Here
Sign Up to become a Dohne Member – Click Here
Full Newsletter – PDF Copy
Annual General Meeting Report
A pleasing number of members attended the Zoom AGM however constitutional changes were unable to be voted upon due to a quorum of 75% being unachievable.
Congratulations to Darren Gurnett from Gunyado Dohne Stud at Kerang in Victoria for joining the Association as a new Councillor. Darren joins the team of President John Nadin, Vice President Rachel Browne and Councillors Rhys Parsons, Greg Hall, Allen Kelly and Don Mills.
Council and its sub committees will continue to drive projects such as the Dohne Sire Evaluation trial, acquisition of DNA samples for the Genomics bank, Quality Assurance and Compliance as well as Breed Promotion. Hopefully 2021 will see the opportunity for members to resume their field day and show appearances.
Members are reminded that the Councillors are here to serve the breed and assist members where possible and as such are encouraged to contact the Secretary or individual Councillors as the need may arise.
Dohne sales have started across the country with some pleasing results. Good luck to those of you with upcoming sales.
Reminders:
Nominate a sire or two for the Dohne Sire Evaluation (to the Secretary)
Contact Rhys Parsons for more info on how to submit DNA for Genomics
Ram sale catalogues must state which Dohne Index you are using
Ram sale catalogues should have the same Percentile band from the analysis run you got your ASBVs from, not a cut and paste from last years' catalogue.
Ram Sale Results
Sale photos on behalf of –  Stock Journal
O'Brien Dohne Ram Sale, Wudinna SA
40 rams sold to $6200 and averaged $1635.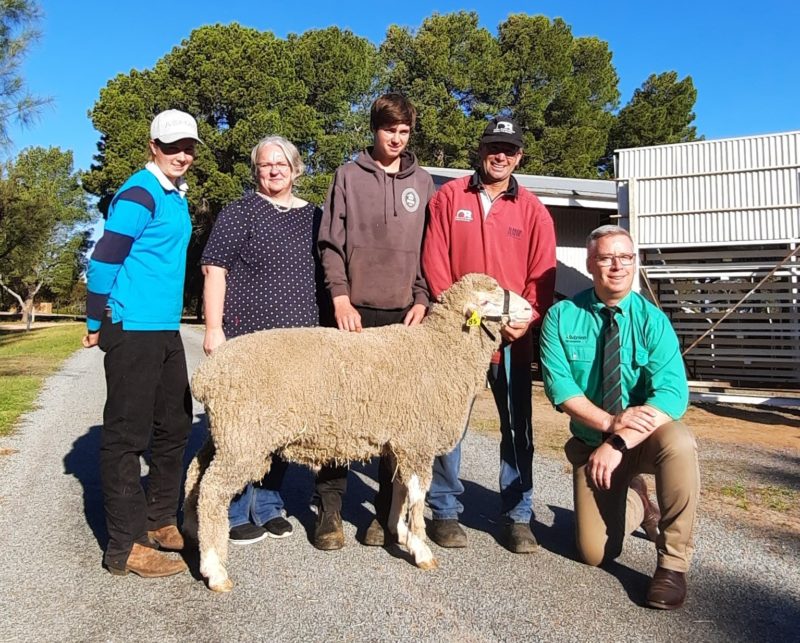 Pictured L to R: Regan O'Brien, Jodie Reseigh-O'Brien (O'Brien Dohne Merino), Saxon O'Brien, Darren O'Brien (O'Brien Dohne Merino), and Gordon Wood (Nutrien Ag Solutions).
Ultimate Dohne Ram Sale, Mt Pleasant SA
45 rams sold to $3400 and averaged $1320.
Full Sales Report – Click Here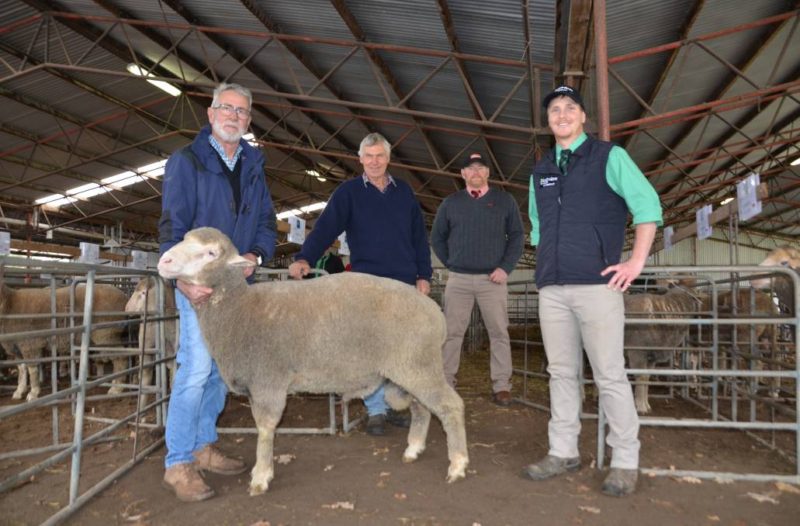 Koonik stud's wool classer Ian Bradtke, Yongala, holding the $3400 top price ram with buyer Philip Reid, Normanville, Elders Mount Pleasant's Richard Hentschke and Nutrien Ag Fawcett Livestock's Ashley Fawcett.
Babirra Dohne Ram Sale, Stansbury SA
35 rams sold to $4400 and averaged $1486.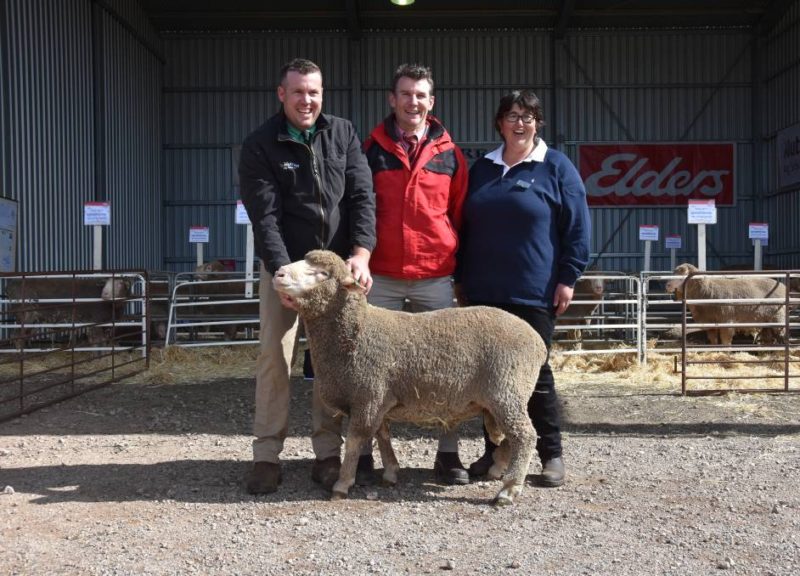 Nutrien's Andrew Parsons, Elders Minlaton's Adam Pitt and Babirra principal Lynda Farrow with the $4400 top price Dohne, which was sold to phone buyer Brendan Ebsary, Barunga Gap.
Hill View Dohne Ram Sale, Streaky Bay SA
65 rams sold to $4000 and averaged $1587.

Hillview Dohne Stud – Robert & Heather Holmes with Landmark agent Peter McEvoy and purchaser Paul Webb for Eagle Ridge Dohne Stud, Landmark agent Rachelle Montgomerie and Hillview Dohne Stud Jethro and Milton Holmes hold the top priced Dohne ram.
Eagle Ridge Dohne Ram Sale, Cowell SA
32 rams sold to $3100 and averaged $1540.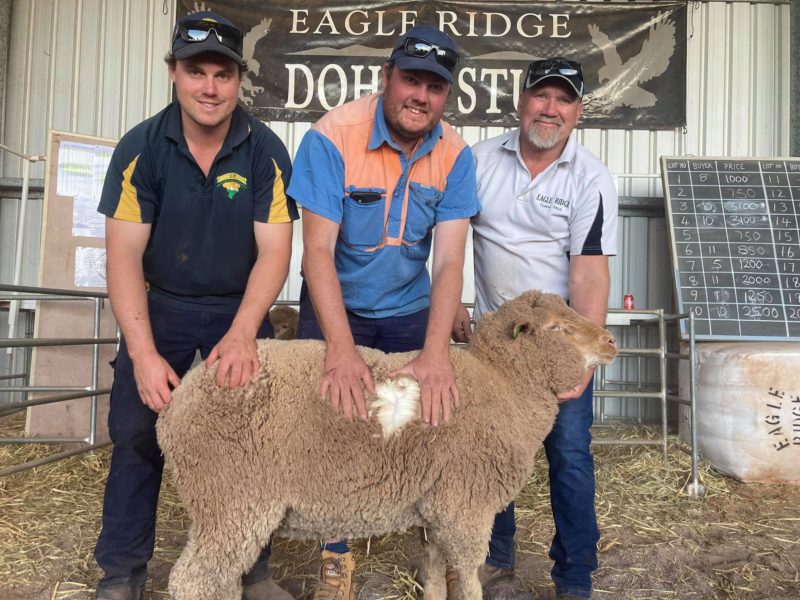 EP Livestock – Scott Masters, with purchaser Wayne Hodge, Lock SA and Stud Principal Paul Webb holding the top price Dohne rams.
Clover Downs Dohne Ram Sale, Jamestown SA
48 rams sold to $2400 and averaged $990.
Full Sale report – Click Here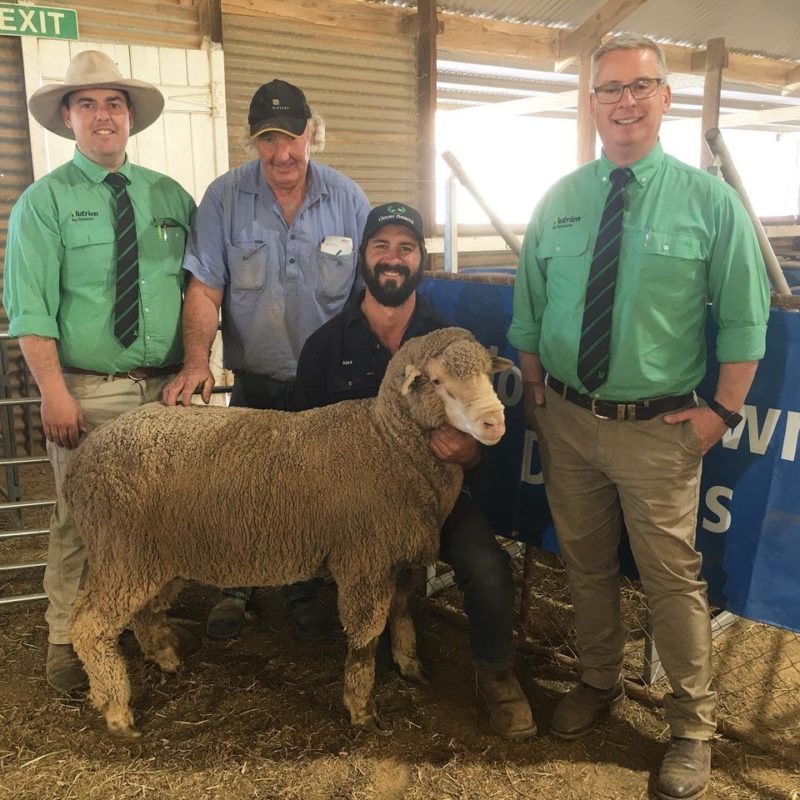 Nutrien Livestock Agent – Peter Marschall, with purchaser buyer Kevin Ritchie, Clover Downs stud principal Alex Mattschoss holding the top priced ram and Nutrien Livestock Agent Gordon Wood.
Ulooloo Dohne Ram Sale, Hallett SA
70 rams sold to $4000 and averaged $1411.
Full Sale report – Click Here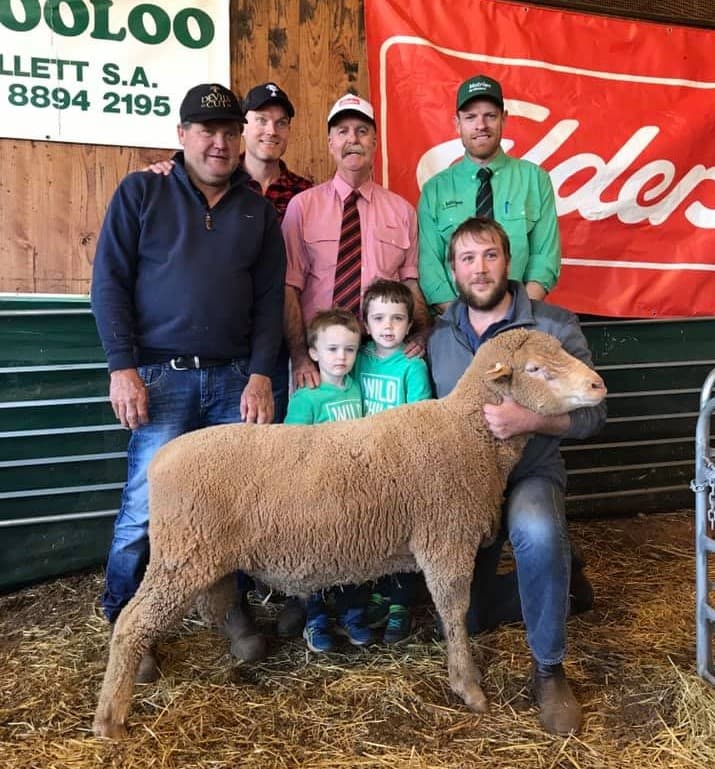 Purchaser Nick Schoenberg, Ben Kerslake, Elders Agent Tom Penna, Landmark Agent Tom Allen, Noah, Brady and Rob Hall with Ram Lot 6 ULO190012.
Dohne Sire Evaluation Trial
The Association's Dohne Sire Evaluation Trial Committee is excited to invite Stud members to nominate sires for the 2021 Coonong Dohne Sire Evaluation Trial. The Committee is confident that this project will be important to the development of our breed in Australia, and are pleased to be working with the Australian Merino Sire Evaluation Association on this trial. The Committee would also like to acknowledge the enthusiasm of the site hosts; Tom and Sophie Holt of Coonong Station.
For more information contact Cameron Hills 08 8210 5229 .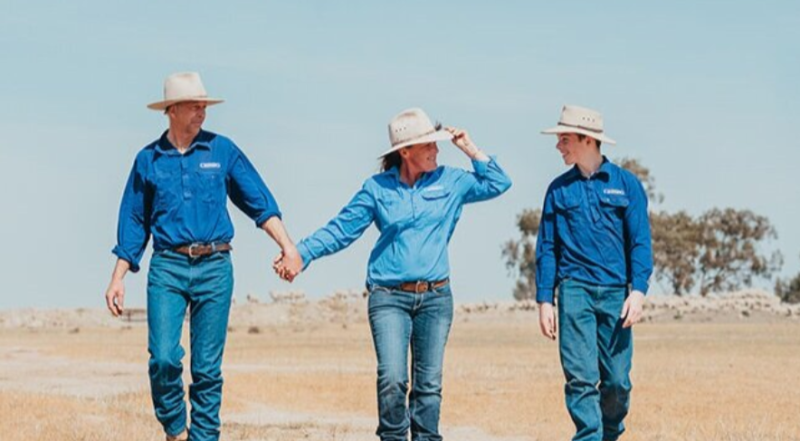 Coonong Station, Tom, Sophie and son Thomas Holt
General Photos and Videos plus Commercial Stories 
The National Promotions Group is always on the lookout for general Dohne photos and videos plus good stories for our annual Dohne Journal and Social Media content. If you know of any commercial breeder that would be interested in telling their story, please email their contact details to .
It is important as a breed to promote all attributes of the Dohne and how they perform against other breeds and in different regions of Australia.