Sheep part of the Panizza plan
COURTNEY WALSH 20 Aug, 2017 Farm Weekly
THE Panizza family operation in Williams might be focused on cropping, but brothers Nick and Simon Panizza know there is a place for, and a value in, running sheep.
Nick and Simon have both returned to the farm to work alongside their parents and grandparents in the 5000 hectare mixed enterprise and say the family has always run sheep on their owned and leased properties.
"We moved here from Southern Cross in 2003 and we've had Dohne ewes since then," Nick said.
"We've found the fertility of the Dohnes is better than Merinos and they've got the meat side of things too.
"But their growth rates really stand out and that's why we favour the Dohnes."Sheep make up 20 per cent of the Panizza enterprise, with canola, barley, oats and hay making up the remaining 80pc.
There are about 5000 purebred Dohne ewes mated every year, with half mated back to Dohne rams for replacements and wool quality, while the other half are mated to White Suffolk to focus on crossbred prime lamb production.
Those numbers fit nicely into the Panizza operation, allowing the replacement selection to be a strict process.
"Obviously we sell the wether lambs and select replacements from the ewe lambs but because we're happy with the numbers we've got at the moment, we can pick and choose from the ewe lambs at classing," Nick said.
"So when we class them we usually keep about 50pc of the ewe hoggets to go to the Dohne rams and we base those decisions on wool traits mainly.
"Then the next 35pc or so go to the crossie ram.
"Those are usually the ones with a bit less quality in the wool but still have those carcase traits we're after and the remaining ewe lambs go on the truck."
The philosophy is the same when selecting for wool and carcase traits when it comes to rams as well as replacement ewes.
"At the moment in terms of the wool side of things for the Dohnes, we're trying to really focus on yield and a clean fleece," Nick said.
"We're pretty happy with our clean fleece weights but yield wise we're looking at somewhere around 65 and we'd like to get closer to 70 so we've been pushing towards that in recent years.
"When it comes to the crossie rams, we've been favouring the White Suffolks a bit more lately because we find they're a bit hardier rams with heavier, fast-growing lambs.
"And in terms of carcase traits, those are the sort of things we want to see.
"We want the frame size, fat and reasonably fast growth rates because we don't like to carry too many lambs through the summer."
Simon said birth weight was a figure they watched closely.
"We place a pretty high importance on low birthweights in combination with the quick growth rates as well when we're selecting the White Suffolks," he said.
"Because they can get pretty big so we try to have that lower figure to try and avoid lambing issues."
The Panizzas are regular clients at Far Valley Dohne stud, Arthur River and Iveston White Suffolk stud, Williams, and say they've been happy with the performance of those genetics in line with the sorts of lambs they want to be producing.
Nick said they buy in about eight rams of each breed per year which go in with the ewes around Christmas time.
"Lambing starts in mid-May and goes for five weeks," he said.
"Percentage wise we got knocked around a bit this year because of that heavy rain everyone got in February.
"We pull the rams out and shear in January-February so we finished about three days before that front arrived.
"They ended up in the shed for three days due to that weather so we finished up with about 10pc dry whereas we're usually sitting around 4pc.
"So that hurt from the start this year but we're usually pretty happy with our lambing percentage – the Dohnes are great mothers.
"Looking after the twin-bearing ewes makes a difference as well I think," Simon said.
"We make sure we put the effort into scanning for multiples and put them in smaller paddocks with a bit more care to bring the survival rates up.
"Feed budgeting comes into that too and we can make sure they're getting the extra nutrition they need."
Speaking of feed, when Farm Weekly visited in early August the Panizzas were still feeding and expected to be doing it for a while yet.
"We hardly fed all summer," Nick said.
"There was so much green pick around but it's taken a long time to even start to look like bouncing back."
Nick said although they grow their own hay to sell, they preferred to feed the sheep grain.
"We've put out a bit of hay but we think feeding with barley is a better option because the sheep tend to waste hay a bit," he said.
"In a good year we won't have to feed at all, but we generally hang onto a bit of grain to sell domestically which has helped our feeding regime here this year."
When it comes to preparing lambs to leave the property, Nick and Simon said it depended on the season.
"Generally we try to take some straight off mum which are usually the early ones," Nick said.
"Basically we just wait until they're ready.
"But if we get to early September and they're still a way off, then we'll wean them but if they're close we just leave them with mum until they're ready.
"We sell some to Hillside Meat Processors, some to
V&V Walsh – it just depends on the season and markets."
Marketing their wool also depends on the season, but the Panizzas sell both in and out of auction to keep their options open.
"Generally we've been really happy with the lamb and wool prices we've been seeing," Nick said.
"And at the end of the day, while cropping is obviously our main focus, the sheep utilise the country we have that can't be cropped, so they fit in well within the whole operation."
They said the main focus for developing the operation into the future was to continue to work on making the sheep as low maintenance as possible.
"They're handy to have and they make a profit for us off our non-cropping country but we don't want to have them impact on the crop operation so that's a continual focus for us.
"At 11DSE we're probably a little bit below the district average which comes back to that ease of management.
"Pasture is probably an area we can look at working on a bit more, encouraging clover and ryegrass so if we can improve that side of things then we might look at increasing our stocking rate.
"But at this stage, we're happy with how the sheep fit into the enterprise and look at continuing to improve on quality within the numbers we have."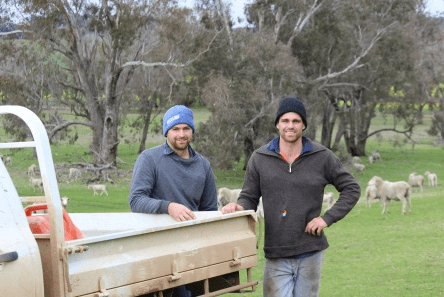 Nick (left) and Simon Panizza, Williams, know there is a place for sheep alongside the family cropping enterprise.