The Dohne Does It Better
Original article written by Xanthe Gregory, February 2019.
ANDREW TUNSTILL
KALANNIE, WESTERN AUSTRALIA
"Switching to the Dohne has improved the viability of our business,even in the harshest of seasons."
THE DOHNE sheep are hardy animals and continually prove to be the most versatile breed on the market. For commercial breeder Andrew Tunstill, switching to the Dohne has improved the viability of his business, even in the harshest of seasons.
Andrew and his veterinarian wife Kirsten Tunstill live near Kalannie in the central wheatbelt of Western Australia. Kirsten stumbled across the breed through her veterinary work and was extremely impressed, telling Andrew to look into them immediately.
As former Merino breeders on Bimbiji Station in Western Australia's wheatbelt, they made the move to breeding Dohnes not long after moving to Kalannie.
"We got into Dohnes about 8 years ago and we started crossing Dohne rams over our Merino ewes," Andrew said.
Today their 12,000 acre property 'Murramai' holds a self-replacing flock of 1800 Dohne ewes.
The Tunstills crop two thirds of their land with wheat, barley and lupins, leaving the rest for the sheep to graze.
Their feed is primarily cape weed pastures, but the Dohnes don't mind, in fact, they thrive on what they've got. "We're basically croppers running sheep," Andrew said. "They're not nicely developed clover pastures, so we use the sheep to eat weeds for our cropping."
Andrew finds the Dohne does well under any conditions and aren't fussy, when comparing them to their former Merino flocks. As an extremely versatile breed, which does well on little, they seem to lack the disadvantages of other popular breeds.
"They're not very selective, you don't have to supplementary feed them." Andrew continued, "They have a nice small lamb, we don't have birthing problems and once they get going they grow quickly. They're a great all round breed for us."
Andrew had a mob of pure Merino ewes which he compared with his Dohnes, highlighting that he's made the right switch to the dual-purpose breed. "You could certainly tell the difference in the condition of them compared to the Dohne."
Improved birthing rates have been a major advantage to the Tunstills, where in recent pregnancy tests there were only 87 dry ewes out of 1800. "We have gained extra lambing percentages, so we don't have to mollycoddle them like we do a traditional Merino."
The fine wool that the Dohne grows for Andrew, averages between 19 to 20 microns with a wool cut of around five kilograms from their ewes. This finer wool is a result of selectively breeding his best Dohnes. "I always try and select for the better quality and cutting wools, so you can improve your wool cut and quality by selective breeding."
For the pasture Andrew's Dohnes are feeding on, he is amazed by their growth rates. Lambing occurs in April/May, and they start selling their first lambs just six months later, in September, with a carcass weight of 18 to 22 kilograms. "If you can get the picture of where we are, they grow very well."
Having bred traditional Merinos in the past, in both good and bad seasons, Andrew sticks by the resilience of the Dohne. "They certainly do better than any other breed in tough conditions. They're very robust and they're not worried about things like water quality", he said.
The switch of breed has even saved them the cost of grain, feed and time. "We don't feed sheep like we used to anymore," Andrew said. "I find them a breeze and a pleasure to manage, because they're really good doers."
At the end of the day Andrew has no regrets about the sheep he breeds, explaining "I love the Dohne. I reckon they're the best thing ever – I have no regrets."
The best part is, it's not just the Tunstills who stand by them, their stock agent is impressed too.
Andrew said, "Our stock agent is always quite amazed at how the lambs consistently weigh three to four kilos heavier compared to the others he deals with between Moora and Beacon, in the central wheatbelt."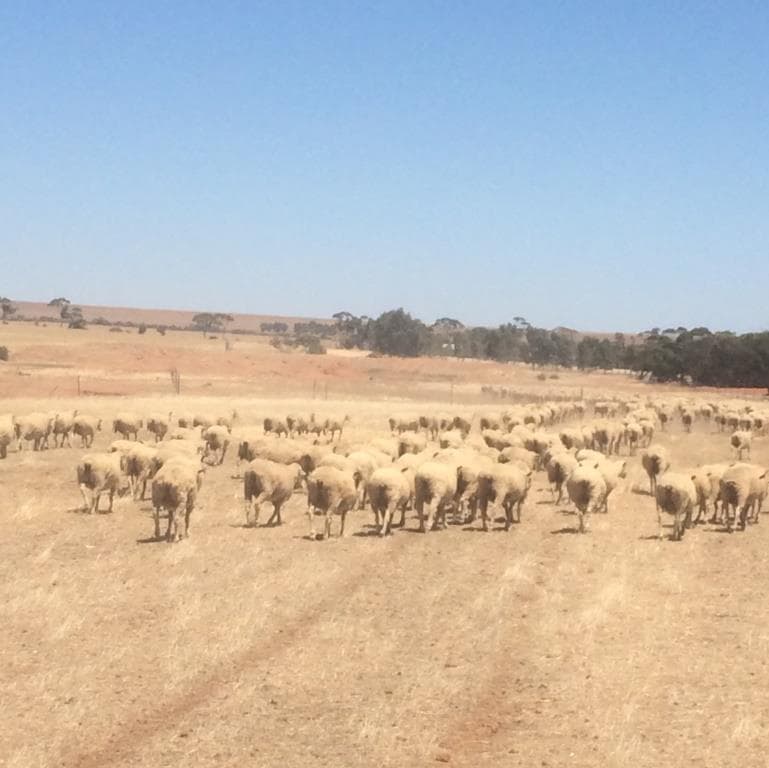 Andrew's Dohne Ewes.