Wool and meat benefits
Mark Griggs 25 Aug 2017 The Land
A MERINO breeder of three generations at Graman near Inverell, Wayne Lowe turned to Dohnes 10 years ago for their dual wool and meat benefits.
Admitting he is a wool man through and through and was well taught by his father and grandfather, Mr Lowe said income from wool at the time wasn't returning a profitable investment, and he was tired of crossbreeding due to the extra flock management.
After reading about the breed in magazines he decided to try Dohnes and bought some rams from Armidale studs and later from the late Peter Hyland of the Hyland stud, Geurie.
Moving away from crossbreeding and having one flock returning good wool and heavy wether lambs was the best decision he has made, Mr Lowe said.
"I just found Dohnes were better to handle, management wise, than crossbreds and I really like their wool."
Last drop was the second of lambs all sired by Dohne rams.
Mr Lowe said getting the best wool from ewes was determined by obtaining the right ram.
"I think it depends on the ram you buy whether your wool will be drier or well nourished.
"But that's the same with Merinos, you've got to pick the sheep that's going to suit your flock and your country."
"Morris Vale" consists of 490 hectares of black soil country used for cropping and 320ha of mostly unimproved granite country where the sheep are run.
"Our mainline flock ewes are cutting 4.5 to five kilograms of 18.7-micron wool and last shearing had 2.5 per cent vegetable matter and yielded 74.7pc with staple length of 85 millimetres.
"My two-tooth maidens from a joining of 1100 ewes were running on a bit better country were 19.5 micron, 70.7pc yield and 96mm staple length."
By changing to Dohnes and gaining the dual-purpose benefits, wether lambs are making good money.
"They don't finish as quickly as crossbred prime lambs but I sell mine as they make the 50kg mark and market them through the local saleyards or over-the-hook and I get positive feedback from buyers," he said.
Roadside deal for first rams purchase
LIKE many Dohne breeders, Wayne Lowe was devastated on hearing of the accidental on-farm death of Hyland stud principal, Peter Hyland, earlier this year.
"When I decided to get into Dohnes I made contact with Peter and after a couple of phone discussions I decide to buy some of his rams," Mr Lowe said.
"As we are a fair distance apart we decided to meet along the Newell Highway and transfer the rams from his vehicle to ours.
"So we met on the side of the highway somewhere in the Piliga and introduced ourselves to each other before taking half a dozen rams.
"That was about 10 years ago and I've bought rams from the Hylands ever since."
Mr Lowe said Peter Hyland would be sorely missed by the Dohne fraternity.
"He was just a fantastic bloke, very enthusiastic about his Dohnes and a great bloke who would help anybody.
"It was heartbreaking to hear about his tragic accident."
Wether lambs are finished on grazing oats or wheat with self-feeders of grain to supplement nutrition and are marketed at 50 kilograms between 10 to 14 months and before breaking their teeth.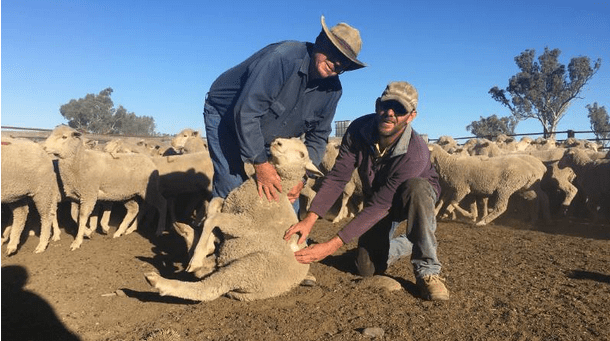 Wayne Lowe and son, Dennis, check over one of their Dohne ewes at "Morris Vale", Graman, near Inverell, which are growing 18.7-micron wool.