Wool and meat value makes Dohne a winner in South Australia
THE COMBINED wool and meat value makes the Dohne a profitable choice for South Australian lot feeder David Head.
His Tintinara based feedlot, Tolmer Rocks, turns off 10,000 to 15,000 store lambs a year, with Dohne sired lambs comprising 25 per cent.
The wool cut, skin value, daily growth rate and carcass quality of the Dohne puts it in the winner's circle for profitability, according to Mr Head. Mixed sex lambs are sourced from preferred suppliers or from AuctionsPlus, and enter the feedlot at an average of 35kg liveweight at fat score one to two. Licenced for 8000 head, the feedlot was started more than 15 years ago to combat a grass seed problem in lambs.
Mr Head said there was a four to six week window when silver grass shed its seed and lambs needed to be removed from affected paddocks.
"The Dohne cross lambs will achieve daily weight gains of 320-360 grams compared to Merinos on 260-280 grams,'' Mr Head said.
They are drenched, vaccinated, treated for lice and shorn at induction, with the Dohne cross lambs cutting an average of 2kg valued at 1000c/kg or $15/head less costs. "The Dohne skin is worth $20 so I can make $35 before I sell the meat,'' Mr Head said.
"Although the Merino will cut 2.8kg, you need to consider the whole picture with the Dohne carcass worth an extra 30c/kg above the Merino."
"Dohnes are easy care, plainer sheep with the ability to cut 4.5-5kg of wool and lamb at 10-15 per cent above the Merino."
"When the going gets tough, the Merino will drop in condition but the Dohne will be quicker to bounce back once the season turns.''
At Tolmer Rocks, the lambs are run in 16 pens holding 500 each, and consume an average of 1.3kg/day.
They are fed a starter ration of 90 per cent hay and 100 grams of barley each – this is gradually increased over 14 days to a full ration of 15-18 per cent lupins and barley, and four per cent minerals. During winter months, the ration also comprises 15 per cent wheat.
"The first turn off exits the feedlot at nine weeks at 25kg dressed weight or 56kg live,'' Mr Head said.
This is followed by three drafts over 12 weeks, with the lambs processed at JBS Australia or Thomas Foods International. With commercial Dohne flocks on the increase, Mr Head plans to continue purchasing the dual purpose breed.
He said the key to lot feeding was having a good eye for stock, passion for the job and to be honest about making mistakes. "You will never make money out of dead or crook sheep so it is important to be able to look after those tail enders as they will be the ones to make you a profit,'' he said.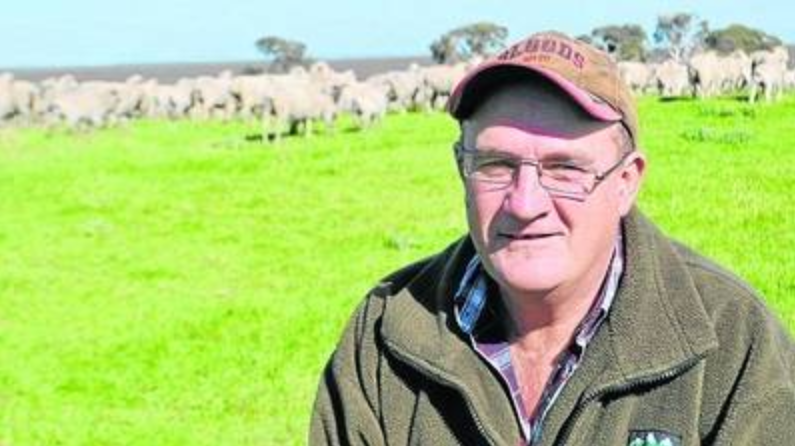 Tolmer Rocks feedlot owner David Head