November Newsletter 2020

Sign Up to receive Dohne Newsletters – Click Here
Sign Up to become a Dohne Member – Click Here
Full Newsletter – PDF Copy
Coonong Station Dohne Sire Reproduction Evaluation
The Dohne Sire Reproduction Evaluation onsite meeting was held at Tom & Sophie Holt's 'Coonong Station', Urana in the Riverina of NSW, on Sunday 1st November 2020.
This day allowed all parties to meet, greet, inspect facilities and finalise arrangements for the evaluations commencement in January.
1275, 2017 drop ewes will now be AI'd to 13 Dohne sires (including 1 link sire) and 2 Poll Merino link sires.
All studs that nominated have a sire represented with an excellent range of genetics,  environments, and ASBVs. Thank you to the following studs for entering;
Western Australia – Chirniminup, Harold Park North, Kintail Park
South Australia – Glen Holme, Ulooloo
Victoria – Glenaroua, Stirling
New South Wales – Calga, Harewood, Kardinia, Macquarie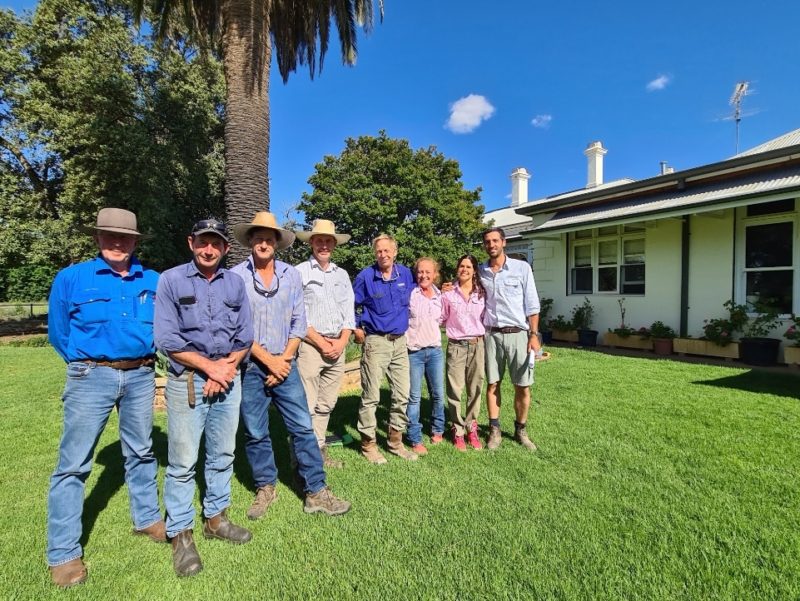 Introduction Day attendees – Allan Casey, Don Mills, John Nadin, Site Manager – Jim Meckiff, Tom & Sophie Holt and Coonong staff – Miguel and Maria.
Dohne Data – Mating Lists 
A reminder to all breeders that as of 1st October 2020 a mating list must be supplied to ADBA Dohne Data Manager; Brett Wilson  by no later than the end of the five week joining period. It has always been part of ADBA Bylaws that a mating report be submitted, although the Association has never enforced it. But now that there is a transition from 100 day progeny registration to an annual mated ewe registration, the mating list becomes a mandatory requirement.
Ram Sale Results
Sale photos and reports on behalf of Farm Weekly, The Land, Stock & Land
Noorla Ram Sale, William WA
43 rams sold to $2100 and averaged $972.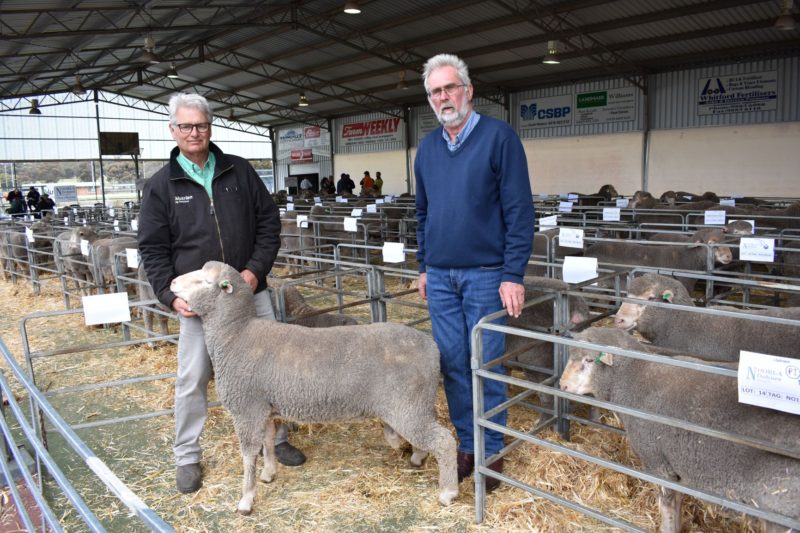 Nutrien Livestock Williams representative and Noorla Dohne stud classer, Peter Moore (left) with Noorla Dohne stud principal Jeremy Genders, with the second top-priced Dohne ram of the sale, which sold to regular volume buyer Tim Pyle, Jeff Pyle & Co, Manypeaks, for $1700.
Southern Ram Sale, Wanganella NSW
83 rams sold to $4750 and averaged $2783.
Full Sale report – Click Here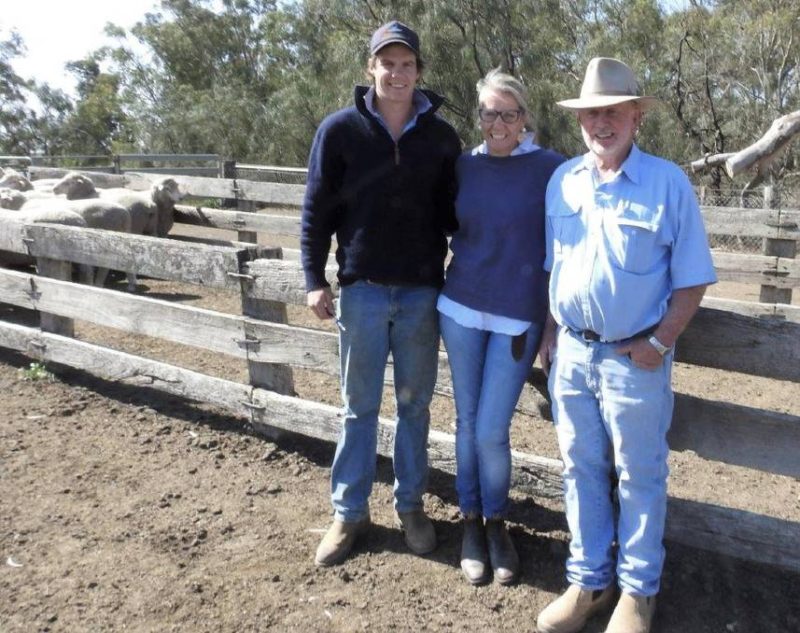 Angus Helps, Ruth Helps and Ian Clark of Yurdyilla Pastoral Co, Hay. Yurdyilla were one of the volume buyers, purchasing a total of 19 rams. 
Koonik & Hamilton Run Ram Sale, Nurcoung VIC
Koonik – 56 rams sold to $7500 and averaged $2522
Hamilton Run – 14 rams sold to $3000 and averaged $1571.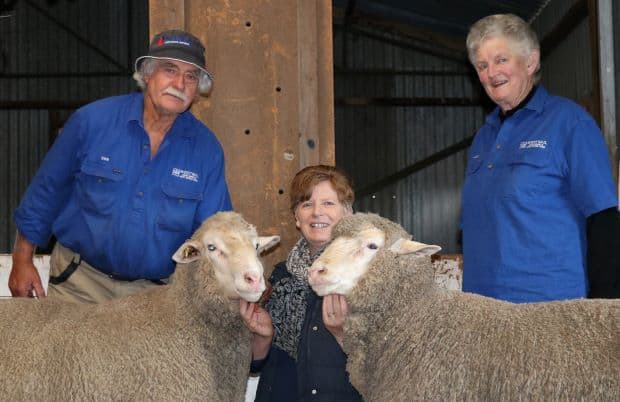 Stud Sires purchased by West Wail Dohne Stud, (L) Lot 3 KDS1903038 $5500 and (R) Lot 1 KDS193456 $7500 West Wail partners Stan and Jude Ellis with Koonik Dohne's Fiona Cameron.
Koobelup & Harold Park South Dohne Ram Sale, Narrogin WA
74 rams sold to $3500 and averaged $1015.
Full Sale report – Click Here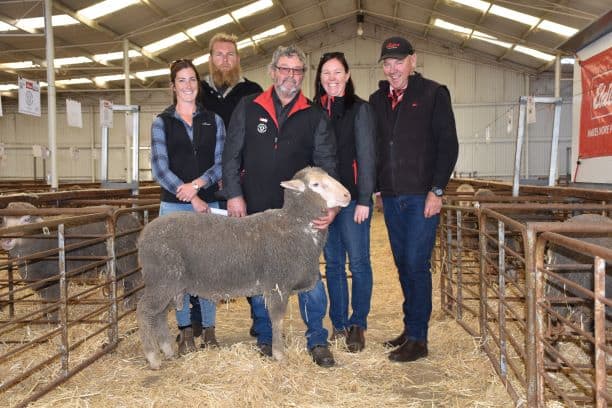 Top price buyers Geoff (left) and Stacey Dalton, Allawa Grazing Co, Kojonup, with Koobelup stud principals Harold Wass holding the $3500 ram with daughter Hayley and Peter Wharton, Elders Kojonup.
West Wail Ram Sale, Horsham VIC
17 rams sold to $2100 and averaged $1006.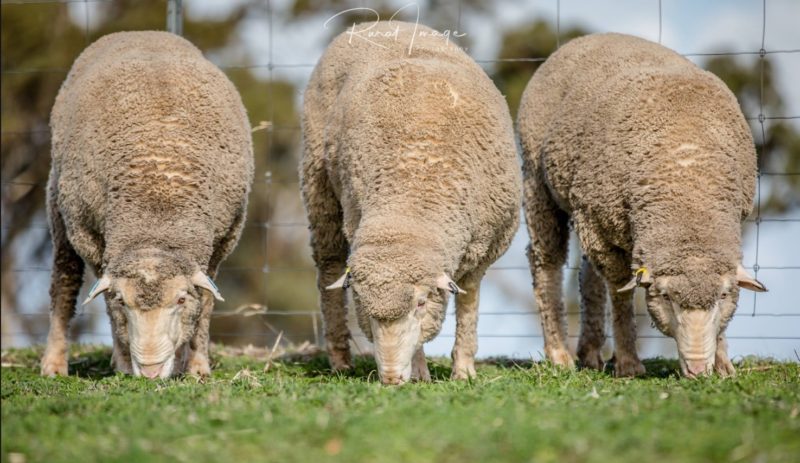 States' Year in Review
South Australia
South Australian ram sales for 2020 were very positive with more rams offered and sold compared to 2019. This is most likely attributed to the widespread rainfall through much of the SA and north western NSW pastoral areas. Sales this year in the State had a top of $6,200 at an average of $2,189 an increase of $203 with an additional 45 rams sold overall. Reportedly many rams have also been cleared through private selection since sales have ended filling orders all over the state and across the border. It is great to see graziers restocking their land and choosing to use Dohne Merinos to rebuild flocks. The high growth rate and fertility of the breed is helping to speed up this process and allowing a faster return on investment.
Wishing everyone all the best for the remainder of 2020 and hoping for a bigger and better 2021.
Rob Hall, ADBA South Australian President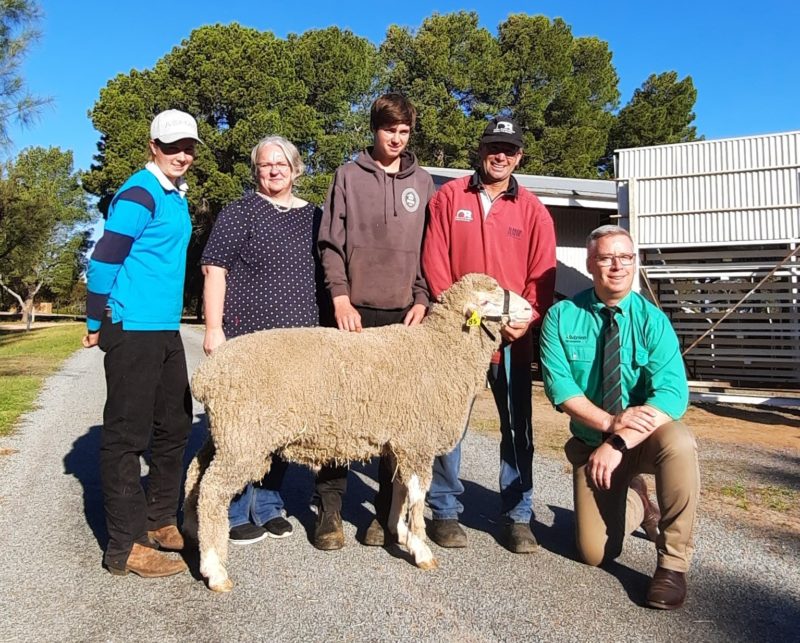 $6200 top price for South Australia – O'Brien Dohne Stud.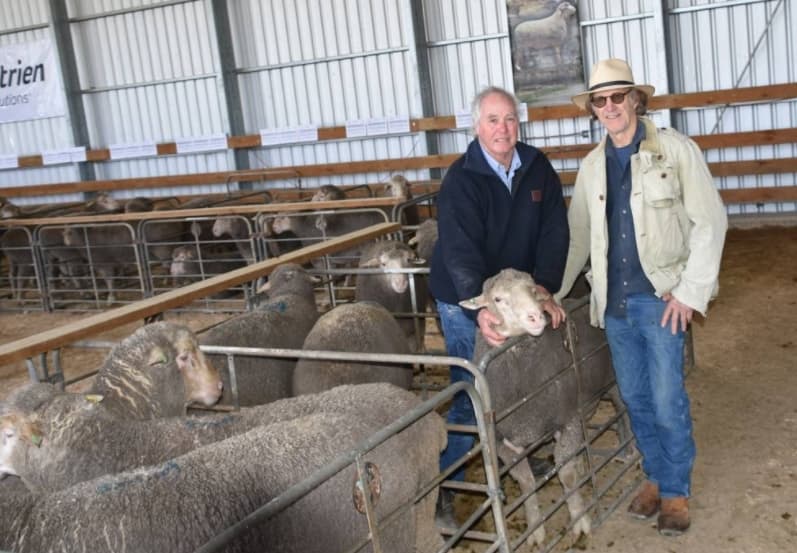 $2189 top average for South Australia – Mt Alma Dohne Stud.
Sheep Genetics Dohne Top Sire List
Sheep Genetics Dohne current Top Sire List as of the 1st November 2020.
Since the inception Sheep Genetics has displayed a top Dohne sire list. For accuracy and merit, standard requirements (default) are progeny from 2 or more flocks and 15 progeny in the current drop. The search engine enables breeders a wider individual  search but the actual top sire list is the default setting.
www.sheepgenetics.org.au/Breeding-services/DOHNE-MERINO-Home