April Newsletter 2021

Sign Up to receive Dohne Newsletters – Click Here
Sign Up to become a Dohne Member – Click Here
Full Newsletter – PDF Copy
Coonong Station Dohne Sire Evaluation 
This sire evaluation will give the ADBA a chance to validate and give numeric credit to the breed's Australian Sheep Breeding Values (ASBVs) of individual sires from across Australia as well as within flock breeding values (FBVs). As all the progeny will be DNA'd the Genomic data collected will be invaluable.
Sire evaluations commenced in 1989 and have primarily focussed on the evaluation of Merino sires over Merino ewes. This is the first trial in Australia and possibly the world where Dohne ewes are used to focus on evaluating commercial Dohne values.
The evaluation will be conducted over three and a half years and involves 15 sires; 13 Dohne and 2 Poll Merino. A great representation in Dohne genetics from a diverse range of environments makeup the Dohne group with 3 sires from Western Australia, 2 from South Australia, 2 from Victoria and 4 from New South Wales.
Three 'link' sires are included; one Dohne which is also involved in the Maternal Lifetime Program (MLP) at Balmoral, which will act as linkage between Dohnes and Merinos, helping validate the data we receive back from the evaluation.
The other two link sires are poll Merinos and have participated as link sires over a number years in various evaluations, giving linkage to other evaluations across the country.
Preg Scanning was performed on March 18.
Overall a very good result for the majority of the 15 sires with scanning rates +70% pregnant.
Results
814 Pregnant.
Reproduction Rate averaging 1.6 lambs per ewe.
397 Singles & 417 Twins.
Carrying 1231 Foetus
Ewe Condition Score averaged 3.95. Previous Condition Score was 3.46 on 10/1/2021.
Up next is lamb marking in early July.
Lamb Tagging/ DNA/ Trait recording.
Traits to be recorded at lamb marking include;
Sex
DNA
Injury
Fibre Pigmentation (FPIG)
Non-Fibre Pigmentation (SPIG)
Recessive Black (BLK)
Random Spot (SPOT)
Breech wrinkle (BRWR)
Breech cover (BCOV).
2021 Dohne Journal
Thank you to all members who have supported another high quality journal this year. These journals have been printed and are in the mail to members.
This journal encompasses the features, versatility and profitability of the world's leading modern sheep
breed.
This journal is also available to view or download on our website and is great way to promote this journal by sharing this link with others.  2021 Dohne Journal Link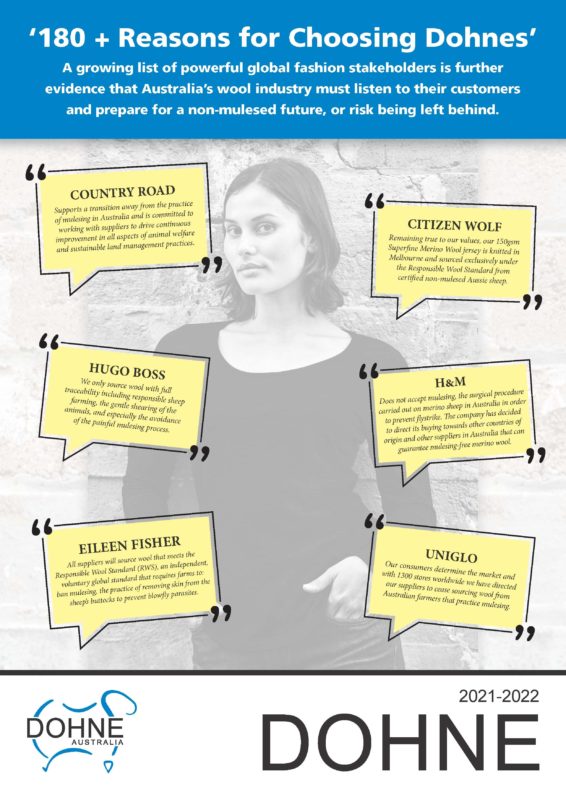 Social Media – Open your eyes to the power of Social media.
Why is Social Media so important?
Showcase Your Brand
Increase Digital Exposure
Boost Website Traffic and Search Engine Ranking
Large Audience
Cut Marketing Costs
Follow us on our Social Media pages:
Sheep Genetics Dohne Top Sire List
Sheep Genetics Dohne current Top Sire List as of the 6 April 2021.
Since the inception Sheep Genetics has displayed a top Dohne sire list. For accuracy and merit, standard requirements (default) are progeny from 2 or more flocks and 15 progeny in the current drop. The search engine enables breeders a wider individual search but the actual top sire list is the default setting.
www.sheepgenetics.org.au/Breeding-services/DOHNE-MERINO-Home