March Newsletter
Sign Up to receive Dohne Newsletters – Click Here
Full Newsletter – PDF Copy
Council Face to Face Report
Council's annual face to face was held in Adelaide over three days in February.
Guest speakers were;
Brett Wilson, ADBA data manager.
'Dohne Database'
Ben Swain, Australian Merino Sire Evaluation Association (AMSEA)
'How can Dohnes best be involved in Central Test Sire Evaluations (CTSE) and Merino Lifetime Productivity (MLP)'.
Tom Granleese, Cooperative Research Centre (CRC)
'How can Dohne breeders assist the development of Genomics for genetic evaluation'.
Daniel Brown, Sheep Genetics (SG).
'Optimising Dohne genetic evaluation'.
Council was impressed with the information these speakers brought to the table. Information from these presentations will be conveyed to members at the upcoming roadshows.
Council would like to thank Ben Swain, Tom Granleese, Daniel Brown and Brett Wilson for attending our meeting.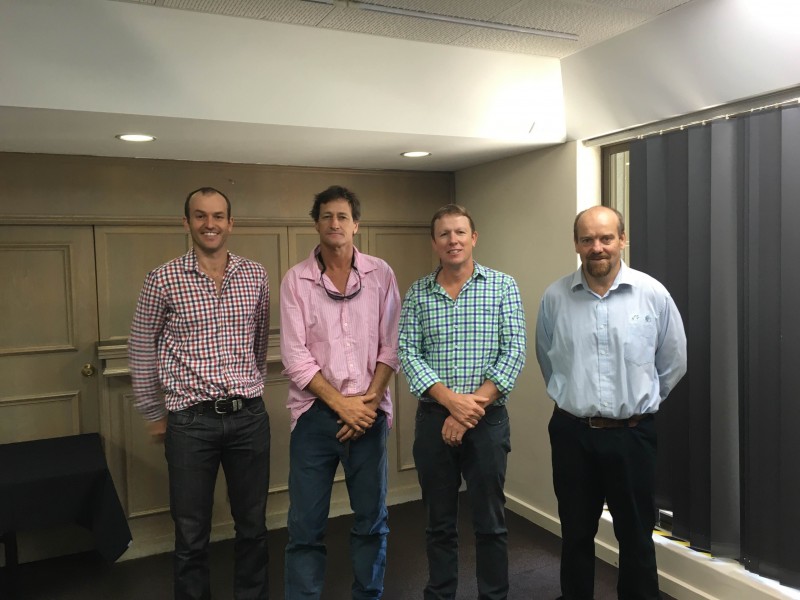 Tom Granleese, John Nadin, Ben Swain and Daniel Brown
During the face to face council had dinner with past secretary Rob Martin. Rob was presented with his Honorary Life Membership plaque.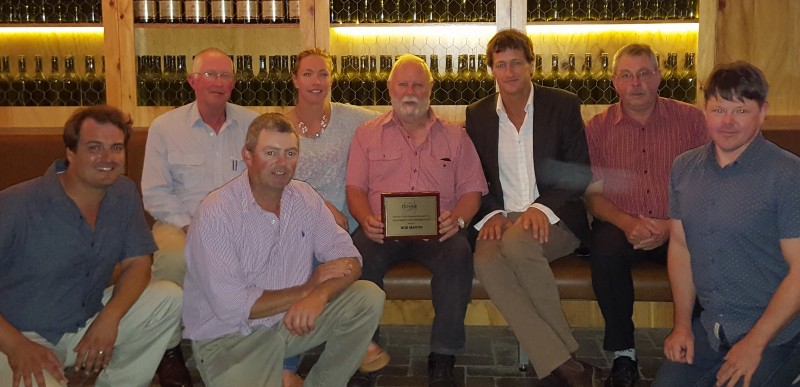 Dinner with Rob Martin – Rhys Parsons, Richard Beggs, Allan Casey, Rachel Browne, Rob Martin, John Nadin, Allen Kelly and Brett Wilson
Council Roadshow March 2017
Council will be conducting roadshows in WA and SA for Dohne members this month.
The program is;
Western Australian
Muresk Institute, Northam
Monday 20th – Meet and greet social dinner at Riverside Motel Northam.
Tuesday 21st – 8am WA AGM followed by council's presentation.
South Australia
Royal Adelaide Showgrounds, Goodwood
Wednesday 22nd – 10am SA AGM followed by council's presentation.
6:30pm social dinner.
Victoria and New South Wales – TBA
For more information please contact Tessa Dawes 08 8210 5229 or .
VALE – Peter Hyland.
Peter was a founding member establishing Hyland Dohne Stud in 2000 on 'Glenore' Guerie, NSW.
Peter was an astute breeder always believing that the commercial focus of the Dohne was its best asset.
Hyland Dohnes record in producing Champion carcasses and unhoused fleeces is unsurpassed;
At the 2008 NSW State Sheep Show they won the Champion pen of lambs on the hook and in 2009 the Champion Pure Dohne Ewe Fleece (18.3 micron). In 2011 competing against six other breeds they won the reserve Champion pen of lambs on the hook and in 2012, 2013 & 2014 the Champion Fleece.
In 2016 they again won the Champion pen of lambs on the hook against 600 pens of many different breeds of lambs.
By 2015 Peter had lifted his average fleece weight to 5.7kg, average micron of 19.3 and recorded up to 168% lambs.
Peter was the longest serving president of the eastern states committee from 2008 until his untimely passing.
Our thoughts are with Karen, Joe and family.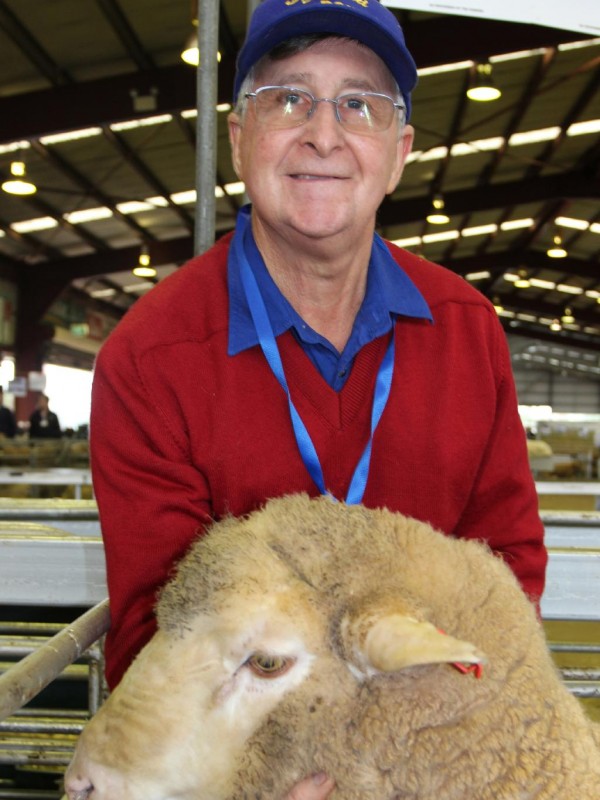 Peter Hyland
International Field Day
In early December 2016, Gabriel Capurro principal of  La Pastoral in Uruguay, held a Dohne Field Day to showcase the Dohne breed.
This was an outstanding success for the Capurro family with more than a hundred producers attending.  There was an array of Dohne sheep on display. During the field day there was competitions including picking the ewe with the heaviest fleece, finest fleece and heaviest lamb.
To read full article on this event in Spanish – Click Here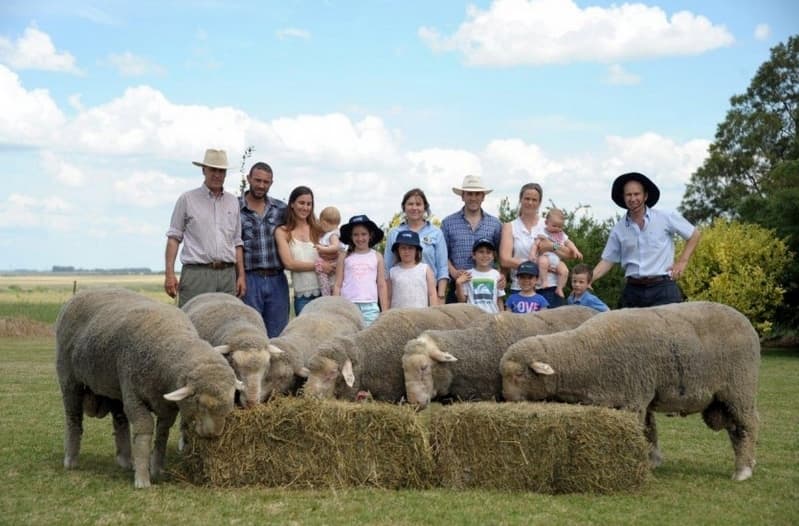 Capurro family – La Pastoral Field Day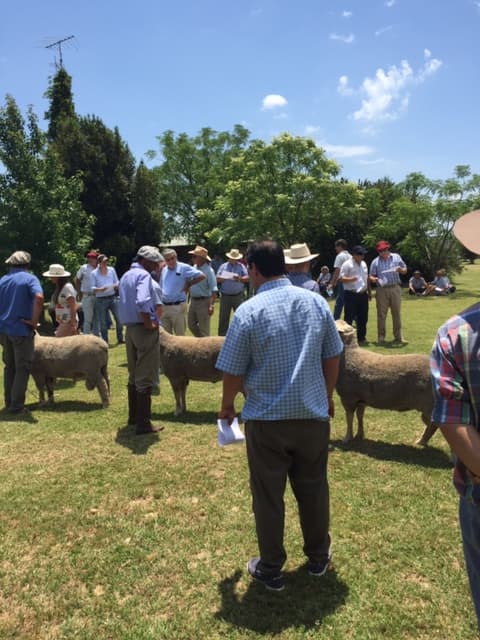 La Pastoral Field Day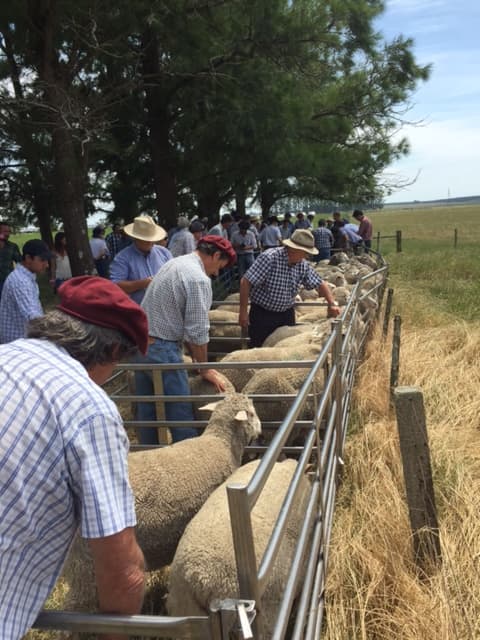 La Pastoral Field Day
Timely Data Submission
Brett Wilson needs to check all Dohne data before submitting it to Sheep Genetics on the 7th and 21st of each month. To make sure your data runs in the analysis you require, you must have you data to Brett 3 days before the analysis runs. For more information on cut off dates – Click Here
Identifying culls
Ensure that a slash is placed in the non-earmark ear to indicate cull status.
This will ensure that cull sheep are not inadvertently sold to other stud breeders.
WA State Secretary
The WA Dohne Breeders Association is seeking a secretary. Please contact Rachel Browne (WA Vice President) if you are interested in taking on this roll.
Beyond the Bale Magazine
On the last page of  Beyond the Bale Magazine you can email in interesting photos. It would be great to see some photos of Dohnes submitted. Please send your photo/s to Richard Smith
To view this magazine Click Here