March Newsletter 2019

Sign Up to receive Dohne Newsletters – Click Here
Full Newsletter – PDF Copy
Councils' Annual Face to Face Report
Last week's face to face was held in Armidale NSW, where not only council attended but also the show and national promo committees. Thanks to All Seasons Motel (Rob and Vicki) and the crew at MLA's SG Office, for their outstanding hospitality.
The face to face was an excellent think-tank meeting with industry representatives assisting council throughout. Thank you to:
Sheep Genetics (SG) – Daniel Brown, Peta Bradley and Emma McCrabb
Cooperative Research Centre (CRC) – Tom Granleese
Australian Merino Sire Evaluation Association (AMSEA) – Ben Swain
Monday night saw council spend time with Dohne Studs breeders from the New England area – Alfoxton (Chris and Cindy Clonan), Amaroo Station (Lachlan and Dephine Johnstone), Harewood (Justin Tombs), Pippadell (Wayne and Phillipa Connelly) and Tablelands (Josh Frazer). It was the perfect opportunity for Council to catch up with (and also meet) local studs, which is often the aim when holding meetings in various and strategic places near breeders.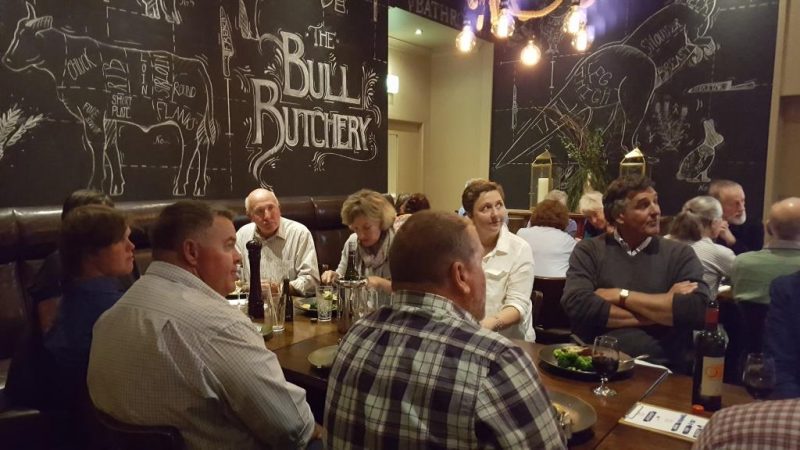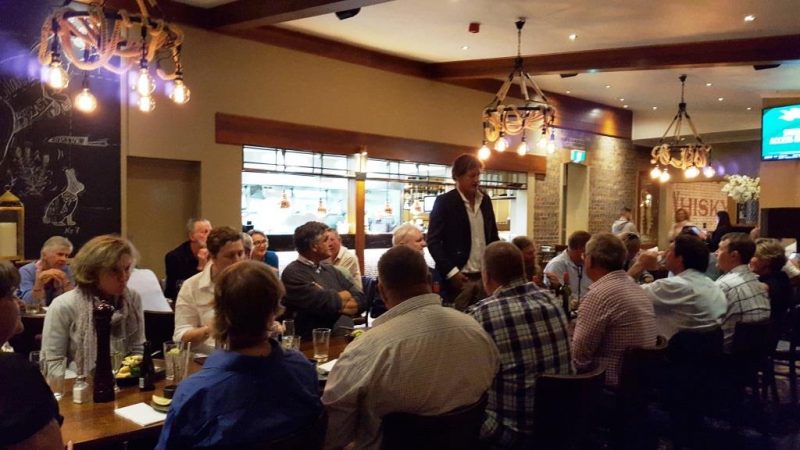 Dinner at the Whitebull Hotel with Dohne Studs.
Ram Sale Results
Photos on behalf of – The Land
Alfoxton Ram Sale, Armidale NSW
57 rams sold to $5000 and averaged $1852.
Full Sale Report – Click Here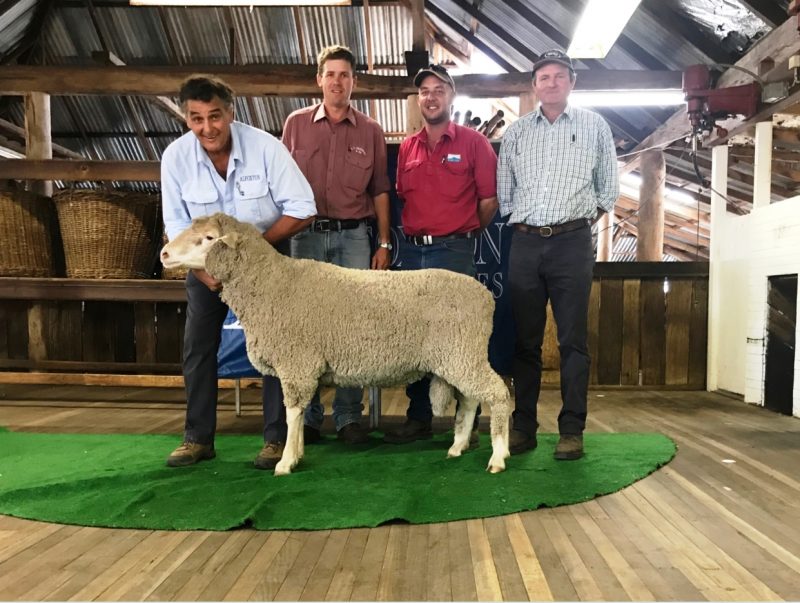 Top priced ram sold to Calga Dohne Stud, pictured Chris Clonan holding ram, Robbie Bloch from selling agents C L Squires and Stuart Davidson from Calga Dohne Stud and Jason Southwell, Calga Classer.
Australian Sheep and Wool Show
Marquee Fleece Competition
Show Ram Judging including a state of origin competition
Charity Lamb Auction
People's Choice Judging Competition
Guess the weight of the Wether Lamb/s Competition
Helmsman Sire Sale
Exhibitor Guidelines
Show rams must be machine shorn on 1st & 8th March 2019.
Only 2 and 3 (2016 & 2017 drop) year-old show rams shall be accepted for judging.
A maximum of 4 show rams per stud
All classes to be judged on uniformity and trueness to Dohne type both subjectively and objectively.
Preparing for the year ahead
In preparation for the year ahead, we urge all members to promote their sales and events on the ADBA website and social media platforms. The earlier you provide your sales and events the longer it will be promoted for. The association is also looking for general Dohne photos and videos to use on social media. Please email or text: Tanya Barton 0429 208 674.
Timely Data Submission
Brett Wilson needs to check all Dohne data before submitting it to Sheep Genetics on the 7th and 21st of each month. To make sure your data is submitted in the analysis you require, you must have your data to Brett 3 days before the analysis dates, i.e 4th and 18th of each month.